Not Like Conventional Dot-to-Dots
Unlike conventional dot-to-dot puzzles that reveal too much of the picture and ruin the mystery, these dot-to-dot puzzles are intricate and so challenging that when your child looks at a page, he will have no idea what the result will be. Reinforcing numbers and number order has never been so much fun!

From 400 to 1,400+ dots
Both your child's left brain and right brain will be exercised as he works to complete puzzles with 400 to over 1,400 dots. Some puzzles even cover a two-page spread. These are definitely not for the faint-hearted.

Not Just for Children
And these puzzles are not just for children. Many adults, myself included, find these books both provoking and relaxing, a treat for sluggish minds and weary bodies.
| | | |
| --- | --- | --- |
| | Now through October 4th, buy any 2 Extreme Dot to Dot books and get 1 free. Mix and match! | |
| | |
| --- | --- |
| | |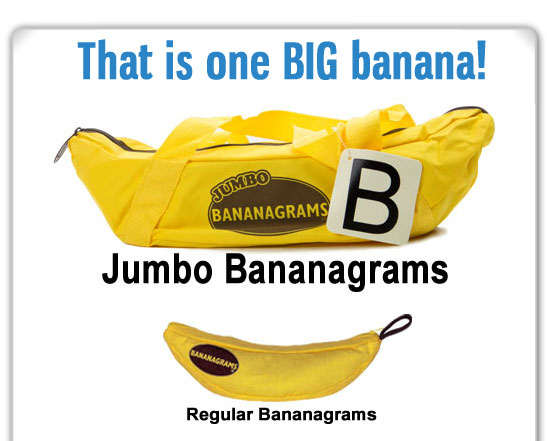 Bananagrams for Toddlers?
Yes! The all-new, oversized Jumbo Bananagrams tile is a substantial three-inch indestructible square, so it is safe even for your little guys. Imagine the possibilities; while you pull dinner together your toddler can lay out the tiles on the living room floor, and you can have him find any matching tiles, locate a particular letter, or, to really challenge his auditory memory, find a short series of letters. Turn the tiles over and play a memory game, put the tiles in alphabetical order, or spell out family names or simple words. Once you get started, you will be astonished at all that you can do with Jumbo Bananagrams. And the best part? Due to their size and soft vinyl composition, you know your toddler is safe while he plays.

Multiple Uses for Multiple Ages
Then, while your toddler naps, Jumbo Bananagrams can be used in the same way as its diminutive cousin, as an educational word game requiring no pencil, paper, or bulky board. Jumbo Bananagrams' simple, parallel play lets every member of the family play at his own level. And because the goal of Jumbo Bananagrams is to use every tile, the challenge of rearranging already-laid letters into new words builds both vocabulary and spelling skills. There are many ways to play original Bananagrams, from high-adrenaline strategy to relaxing solitaire, and Jumbo Bananagrams does all that. But in addition, by using the suggested adaptations that are included, your older kids can exercise their bodies as well as their brains.


Simple - Educational - Fun
No collection of science kits would be complete without a magnetic construction kit. However, with the very real scare of children swallowing magnets, we have always felt the need to be extra vigilant in finding appropriate magnetic sets for your family. We have seen a slew of magnetic kits, and we've found the one that has the safety assurance we demand and the extensive play value your children expect.

Extraordinary Quality, Powerful Magnets
Superior to its imitators, Goobi's elongated magnetic rods exceed the ASTM choking length and their balls are non-magnetic. Unlike cheaper lookalikes you'll find in warehouse stores, each Goobi Magnetic Construction Set is made with strong neodymium magnets that offer unrivaled quality, durability, and magnetic strength.
Goobi Magnet BEGINNERPack $24.95

Goobi Magnet MASTERPack $69.95
A nice supplement!
By Jessica, Sheboygan, WI
| | | |
| --- | --- | --- |
| | "What Your ..... Needs to Know is a superb book. I almost feel like I could teach my children right out of the book. There is so much information inside. It's not just teaching you what to do/say or how to do/say it, it's actually showing you specific information that you can directly relay to your children. Very well written, I wish I could cover everything in the book; it is very exhaustive." | |
| | | |
| --- | --- | --- |
| | Available Grades 2-7 | |
• Reproducible Pages
• Challenging activities
• Must-know strategies
• 52 Practice Pages
• Step-by-step examples

Only $5.99 each!
While Suuplies Last
1510 E Spencer Lake Rd - Shelton - WA - 98584
www.timberdoodle.com